Strong against hair loss – onion and chilli black cohosh – Hair Lotion (4 hairprotection points)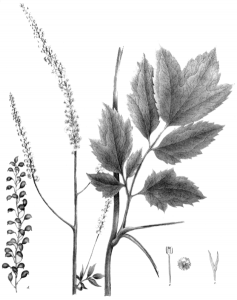 Ingredients: 1 large onion, 6-7 hot peppers, rubbing alcohol with camphor (or menthol), black cohosh – 30g
Peel and chop, give the dice in a bottle onion, hot chili peppers – dried – add. 30 grams of black cohosh. Start with about 2/3 of the rubbing alcohol and let stand tightly closed 4 weeks.
The solution is then filtered and the tonic concentrate must be filled to the remaining rubbing alcohol into the bottle. The hair tonic is ready for use.
Ingredients and their effects:
1. The essential oil of camphor tree comes in hair tonics used due to its stimulating and promoting blood circulation effect. It is refreshing and cooling effect.
2. The onion is a powerful helper for thick hair growth. After a short application of the high sulfur content of onion juice for improving circulation and reducing inflammatory processes provides. It has the phytohormones, beta-sitosterol, stigmasterol, allicin, tryptophan, campesterol, quercetin.
3.Capsaicin is a highly effective active ingredient is present in a large scale in chili peppers and is particularly well dissolved in alcohol. When applied to the skin, it stimulates the circulation and improves the oxygen supply to the hair root. Due to the strong circulation-promoting effect of small, local inflammation are effectively eliminated. Chili includes the phytohormones, beta-sitosterol, stigmasterol, tryptophan, campesterol, scopoletin, luteolin, lupeol, quercetin.
4. According to several studies, the estrogen-like phytopharmacon Cimicifuga racemosa (black cohosh) has a positive influence on hair growth. Research has also shown that an ingredient can stop the hormonally induced hair loss, black cohosh prevents the connection between testosterone and the enzyme 5-alpha reductase that causes the hormonally induced hair loss. The number of growing hair increases that the number of hair falling returns. Moreover, usually, an increase in hair thickness detected. Cimicifuga racemosa has the phytohormone, triterpene glycosides.
With the self-made hair tonic has a strong hair loss remedies that can be used at relatively cheap prices a few months in hair care. The active ingredients are effective in those regions already affected by hair loss . You can feel the effect immediately after application – and for a long time afterwards – feel on the scalp! Since the hair tonic is very strong, the dose must be determined by the individual tolerance. Who is hypersensitive or allergic to any ingredient should refrain from using. We recommend that the scalp to the affected area at least 1x daily with the hair tonic intensive (20 seconds) to massage.
The contact with the mucous membranes should be avoided.
4 hairprotection points – of at least 10 per day :-)
Picture: John Torrey, M. D., F.L.S. (A Flora of the State of New York, Vol. 1, 1843) [Public domain], via Wikimedia Commons