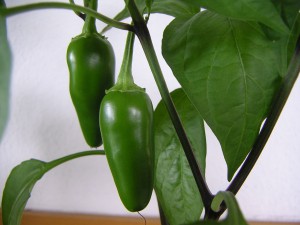 An American study found that capsaicin can promote hair growth.
Capsaicin is an alkaloid from the group of capsaicinoids, which is one of the hottest known substances. In relatively high concentrations and normal skin is irritated by the capsaicin and improve blood circulation, which is why with chillies – applied externally – can treat joint pain, lumbago and other musculoskeletal disorders. In Mexico and Thailand, where a lot of chili is consumed, about 25 -200 mg capsaicinoids are added daily. In Central Europe, the average intake of capsaicinoids is the opposite only about 1.5 mg per day.
In several experiments, a link between the consumption of capsaicin now been found in increased daily doses and hair growth. Usually already after four weeks of treatment, an increased hair growth was observed. Specifically, a combination of soy isoflavones and capsaicin promoted in one of the experiments the growth of hair in humans.
In the study, 6 mg capsaicin per day were given. Generally speaking, in the determination of Capsaicin in food, you can say the spicier the higher. Paprika contains up to 30 mg / kg capsaicin, Tabasco sauce 300 mg / kg. It is really sharp with fresh jalapeno chilies that up to 8,000 with 500 mg / kg and Sambal Olek with 800 mg / kg, chili powder even reaches up to 3000 mg / kg.
Very sharp diet can lead to sensitivities and allergies. However, anyone who is not sensitive enough, we generally recommend switching to a slightly sharper diet. Die-hards take 1/2 teaspoon cayenne pepper dissolved in water per day to themselves.
Potency:
Black pepper, cayenne pepper and chili not only sharpen your food. You have always been the first aid for male impotence. Chili also contains abundant alkaloids euphoric and stimulates the metabolism substances. From all these spices therefore says that they stimulate the sex drive.
Take advantage of the opportunity:
Switching to a sharper and soy-rich diet is no longer a problem nowadays. For those who love Asian, is supplied with sufficient clarity and soy proteins. The Turkish kitchen offers ample opportunity to focus his points come. And who can move in a series of "red" spices in the spice cabinet home at last, comes quickly to his daily dose of capsaicin:-).
2 hairprotection Points – a total of 10 per day :-)
Picture: "Immature capsicum annuum var annuum jalapeno". Licensed under Creative Commons Attribution-Share Alike 3.0 via Wikimedia Commons -https://commons.wikimedia.org/wiki/File:Immature_jalapeno_capsicum_annuum_var_annuum